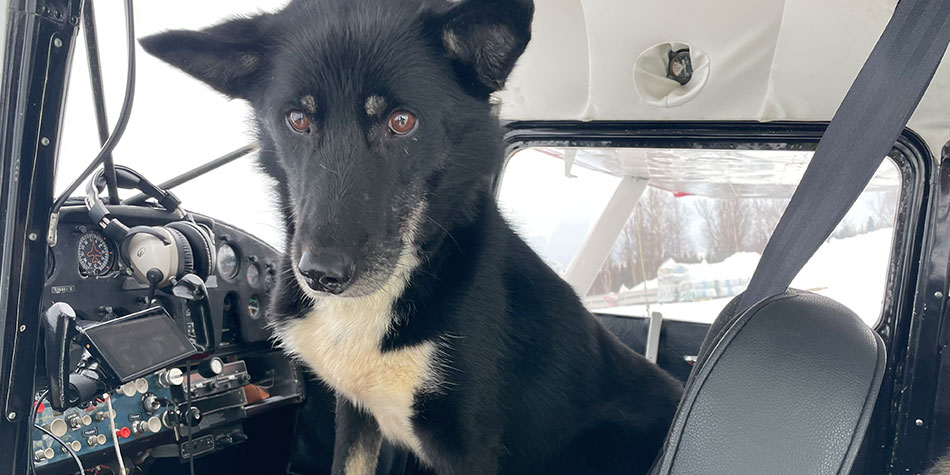 While the conclusion of the Iditarod brings with it festivities for finishers and a final celebratory nod to the 50-year-old tradition before the next year's Last Great Race, it also brings with it the opportunity to marvel at the logistical feat the annual event is each and every year. In large part, its successful execution is thanks to hundreds of volunteers.
Volunteers from around the world offer their time and expertise to support the event in a wide range of tasks. Veterinarians, dog handlers, security and cooks are just a few among a long list of necessary Iditarod volunteers. It's been said, however, that one of the most crucial group of volunteers – often referred to as the "lifeblood of the race" – is the Iditarod Air Force, commonly known as the IAF.
The Iditarod Sled Dog Race is dependent upon this group of volunteer pilots who freely give up their time, talents and the use of their personal planes to assist in transporting pertinent items to checkpoints along the trail because there is not available road access after the ceremonial start and restart in Anchorage and Willow, Alaska.
IAF pilots assist with the following tasks, among others, to and from checkpoints and villages along the nearly 1,000-mile trail:
Delivering supplies and goods, including drop bags, dog food, straw, etc.
Distributing mushers' gear and other race equipment
Picking up and transporting return dogs
Transporting people
For years, cardiologists at Alaska Regional Hospital have spent the bulk of the month of March volunteering in rural Alaska as part of the Iditarod Air Force. For the past three years, Dr. Steven Compton, with the Alaska Heart & Vascular Institute in Anchorage, has taken to the skies to assist however he can.
"There's a lot of logistical support, as you might imagine. A lot of these checkpoints are pretty remote," Dr. Compton said.
In 2022, a majority of Dr. Compton's time was spent at earlier checkpoints, namely Nikolai and McGrath.
"There were six dogs from various teams who were dropped at Nikolai. I flew them to McGrath for further veterinary care before they flew to Anchorage in a 737," Dr. Compton shared about one of this year's flights in his Cessna 170B.
Another cardiologist at the practice, Dr. William ("Bill") Mayer, Compton says, has been volunteering at the Iditarod for about 30 years. Both men are lifelong pilots and own river-flying Cessna airplanes on skis, or "ski-flying" planes. Ski-flying planes have wheels that can be retracted to land on skis or on a hard runway.
"I've been hearing these stories from him and decided to hold off until my kids were grown before I started," Dr. Compton explained. "It's super fun and it's an excuse to get out, you know, into a part of the state that you would never normally see."
Volunteering with the IAF, Dr. Compton says, allows him a different way to experience adventure. He added, flying in remote Alaska means he's witnessed his fair share of interesting things. He recalled an incident in 2021 when, flying over the trail, he thought he saw a loose dog team.
"I get a little closer and see that there's no sled. I get a little closer and realize it was a pack of wolves! There were like 20 of them."
Active at Alaska Regional Hospital
Dr. Compton admits, at least for him, time off from his practice – also known to some as "vacation" – isn't all about relaxing.
"I don't know anybody in our group who really would go down to a beach during their time off," Dr. Compton said, laughing. "The cardiologists, at least in Alaska, tend to be pretty active folks. We've got one partner who's actually run the Iditarod twice and he's climbed the seven summits. And one time, he disappeared for two weeks, and he had skied across Norway. So, everyone's out doing stuff."
Dr. Compton's chosen to bond with four-legged cargo and perfect his precision flying skills.
"There are some of the best ski pilots in the world and they're here to teach us. So, it's an opportunity to learn and improve on ski flying skills too," he said.
"When you land and you touchdown … you have to be absolutely sure you're planning to go the right direction with the right amount of energy, or things can go south," Compton explained, admitting there are parallels between his aerial hobby and his profession. "There's risk management in flying, which kind of mirrors what you do in medicine. You can never eliminate risk from either of those activities, but you can mitigate it."
As for next year?
"I hope to do a couple of weeks every year as long as they'll have me," Compton added.
About Steve Compton, MD, FACC, FACP, FHRS
Dr. Steven Compton grew up in Alaska. Although he was gone for 20 years for schooling, he's always missed the 49th state and says he is happy to be back.
"One of my earliest memories in Kotzebue was just this incessant din of howling, barking dogs because this was before people had snow machines," Dr. Compton said. "I went to East Anchorage High School and then up to Dartmouth, University of Washington, [and the] University of Utah," he continued.
Dr. Compton's primary specialties include Cardiovascular Disease and Clinical Cardiac Electrophysiology. Electrophysiology is heart rhythm management.
While most of Cardiology is "plumbing," the electrical side of the heart can also experience issues that require intervention to help the heart pump more efficiently.
"When you have a heart rhythm problem, some of these can be managed with medications. Some of them we manage with implanted devices – pacemakers and defibrillators. Some are managed with catheter ablation, where we go in and either burn or freeze misbehaving tissue to get their rhythm back in order," Dr. Compton explained.
Dr. Compton is Board Certified in Clinical Cardiac Electrophysiology, Internal Medicine and Cardiology. He says he sees adult and pediatric patients to allow more Alaskans to stay in state for treatment.
Non-valvular atrial fibrillation (A-Fib) patients & treatment at Alaska Regional Hospital
Atrial Fibrillation (A-Fib) is an irregular and often very rapid heart rhythm (arrhythmia) that occurs when the heart's four chambers beat out of sync with one another. According to the Centers for Disease Control and Prevention (CDC), "When a person has A-Fib, the normal beating in the upper chambers of the heart (the two atria) is irregular, and blood doesn't flow as well as it should from the atria to the lower chambers of the heart (the two ventricles)."
One of A-Fib's most serious health complications is the risk of blood clotting which significantly increases the risk of stroke and heart attack. In order to combat that complication, patients with A-Fib often require blood thinners.
For patients who have non-valvular atrial fibrillation – meaning A-Fib has occurred in a heart with healthy valves – and they need an alternative to blood thinners, new, state-of-the-art technology is available at Alaska Regional Hospital. The Alaska Heart & Vascular Institute offers our patients technology that can be implanted through surgery.
The procedure, known as Left Atrial Appendage Closure (LAAC), entails sealing off a small recess in the upper left chamber of the heart, known as the Left Atrial Appendage (LAA), where about 90% of blood clots reportedly form. Closing it off prevents clot formation. The process is completed by placing a closure device in the left atrium of the heart during a minimally-invasive structural heart procedure.
For more information, visit AlaskaHeart.com.