In May 2018, Syhann Shoemake nearly lost her life at home in Biloxi, Mississippi.
"I had an infection I didn't know about at the time and I had just started having some lower back pain. I thought maybe I pinched something," Syhann explained.
The eighth-grade science teacher is not one to take time off, but this was pain like she had never felt. When it became too much to handle, she allowed her husband, Charles, to take her to the Emergency Room.
"As soon as they saw me, that ER team just went into overtime with me," she said.
Syhann had to have emergency surgery.
"They said that if I hadn't come in when I did, it would not be good. I wouldn't be here... It was that bad."
Needless to say, Syhann has a profound gratitude for those who work in the medical field. However, her extreme gratitude toward the healthcare profession came even before that close call.
"I had been dealing with the signs and symptoms of shaking and tremors, and issues with handwriting. My handwriting was almost nothing," she said. "They had been running me through all types of tests for quite some time."
After completing stress and nerve conduction testing, as well as occupational therapy and eventually a brain scan, in February 2018, Syhann was officially diagnosed with Parkinson's disease. She had to come to the realization of what the diagnosis meant for her – immediately and well into the future.
"I kind of had an idea that that's what was coming, but to sit there and have it told to you," Syhann stopped speaking, as tears welled up in her eyes. "You have to decide how you're going to deal with it."
Syhann made her decision.
"Parkinson's is going to have to learn to deal with me and I'm not going to let it control what I'm doing. It might slow me down from time to time, but I'm going to keep doing things that I never thought I would get to do," she said, proudly.
"I've completed a 5K. I've completed a half marathon. I'm going to do things as much as I can. I'm going to do them now and not wait, and not keep putting off things," she added.
Syhann always wanted to know what the power of 14 dogs pulling her in a sled felt like. So, she began saving money and preparing arrangements to attend the 5oth anniversary of the Iditarod in 2022.
Prepared to make a bid and check off an item on her bucket list – the IditaRider experience – Syhann came across rookie musher and Alaska Regional Hospital ER Registered Nurse, Matt Paveglio's biography. This is the statement Syhann says resonated with her:
"The last 20 years I've taken care of patients that have had their best years stolen from them by illness. I realize more now that we need to make the most of our moments and the Iditarod is the opportunity for me to live that spirit."
"Being in the medical profession, that just hit home with me. With everything that I've gone through, that just touched my heart," Syhann tearfully explained. "I knew that he was the one to bid on."
Syhann was notified she won Matt's IditaRider bid and on March 5, her dream became a reality during the 11-mile ceremonial stretch through Anchorage.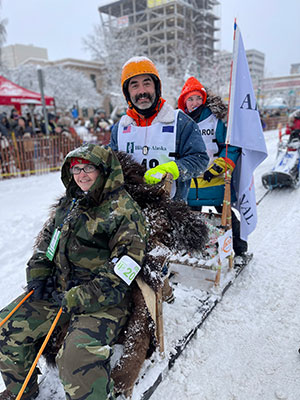 "It was more than what I expected. You look at the pictures and I was smiling the whole way! It was awesome," Syhann exclaimed, cheerfully. "He has such a great fan base, too. People were out there on all those back trails just cheering for him and giving him things. It was just awesome!"
Meet Matt Paveglio, Alaska Regional ER Nurse & Rookie Musher
"I can see why his patients connect with him. He has that way of just lighting up a room with his enthusiasm and his personality, and I think he's going to bring a lot to this sport," Syhann said.
Middle School Science & The Iditarod
There's no doubt hundreds of people will be reading about Matt while he's on the trail, including Syhann's middle school students.
Mrs. Syhann Shoemake received her teaching degree in 1990. She has been working as an eighth-grade science teacher – instructing 13 and 14-year-olds – for nearly 18 years at her current school. She can't think of a better career for her.
"I love science. I love teaching. I love being with the students that are awesome," she explained. "I've been able to introduce them to the Iditarod and to Alaska, and everything. It's just been really wonderful."
From the history of The Last Great Race, to weather, ecology and medicine – her class covers it all!
"They love to do the GPS tracking. We pick favorite mushers and they follow along and we've seen it live. In the past few years, we've actually seen them at checkpoints, but we've also seen them finishing live during class!"
Coordinating Dog Tags: Wishing "Safe Travels"
Before Matt left Willow at the official Iditarod ReStart, Syhann wanted to give him something to remember their experience.
A military wife and mother, Syhann is no stranger to the tradition of dog tags. She currently wears some.
"I got the first one when my son became active duty military. It's got his name on it. It's to keep him close to me, even if he's halfway around the world. So, I was thinking, I want to bring out something small that would mean something to me that I could, you know, give to him," Syhann said. "I kept thinking and kept thinking and all of a sudden, it just dawned on me – dog tags!"
She continued, "Matt has one and I have one."
Both have the year engraved, as well as each other's names. Matt's also has the inscription, "Safe travels."